Ventilation covers for underground garages
The densification of living space continues to increase, so more and more parking spaces are needed in cities. New apartment buildings, for example, are usually equipped with an underground garage. Underground parking spaces, on the other hand, call the Garage Ordinance into play, which also defines corresponding regulations in terms of supply and exhaust air, and ventilation shafts are becoming increasingly necessary overall. It is not uncommon for these to be installed between residential buildings and in the middle of green spaces in order to ensure optimal ventilation.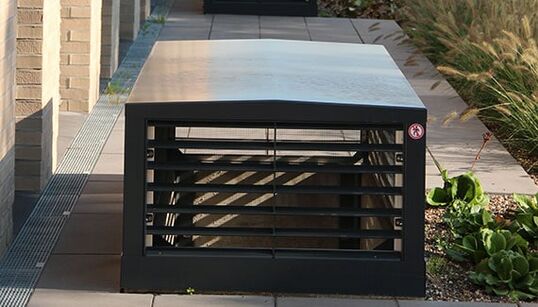 Ventilation shaft covers with the added value of an attractive visual appearance
For architects, landscape architects, property owners and other planners and stakeholders, it is important to equip the shafts with covers that fulfil several functions and at the same time pay attention to a visually appealing design. If required, the ventilation shaft covers can also be integrated into the usage concepts of the respective environments - for example, by equipping them with an integrated seat support. The simple and elegantly matter-of-fact design of the ventilation grilles is an optimal and universally suitable solution for this, leaving the focus of attention on the appearance of the surroundings. Thanks to their lightness of appearance, they do not push themselves into the foreground as a necessary functional object.
Ventilation bonnets with louvre grilles and individual sizes
In order to fulfil all safety aspects and to ensure that the function of the ventilation is not impaired by wetness, snow or leaves, the ventilation bonnet with louvre grille is designed to be as effective as it is simple to implement. Integrated insect and small animal protection grilles consistently implement the demand for maximum functionality. The dimensions of the ventilation shaft covers from Thieme GmbH can be individually designed, with statics on request. Whether in a matching colour tone for the most inconspicuous possible installation of the ventilation grilles in a green area or as a deliberately set colour accent in the surroundings - the covers for shaft vents meet the desired ideas for open space design in any case.