Playground experience
The expectations that operators, teachers and pupils now have of the break area have changed enormously in recent years; the schoolyard as an unstructured and unimaginative open space has had its day. Attractive and versatile offers that promote movement on the one hand and allow for retreat and recreation on the other are in demand. The importance of the schoolyard as an educational space has also increased. All these requirements can only be met with a well thought-out outdoor space design and weather-resistant schoolyard furniture.
Create places of retreat
Maneva seating group
In addition to areas that promote movement, the schoolyard design should also take into account zones that allow pupils to withdraw in small groups, to exchange ideas or simply to relax.
Seating groups such as the Thieme system "Maneva" allow for a small-scale structuring of the break area and in this way create places of retreat that serve communication in small groups, the reception of the common meal, but also pure relaxation. The use of high-quality materials such as hot-dip galvanised steel and glazed wood, professionally processed, guarantee a long service life with minimal care and maintenance requirements.
Island of communication
Round seating group Aurich
Especially during the warm summer months, outdoor lessons are a welcome change in the curriculum for both teachers and pupils. The schoolyard design should serve this purpose and provide space that promotes exchange and creativity and encourages children and young people to develop ideas together.
With its open circular shape, the Thieme seating group "Aurich round" allows for numerous communicative uses. Facing each other, pupils and teachers can exchange ideas and give free rein to their creativity. Weather-resistant and low-maintenance materials such as hot-dip galvanised steel, metal and wood ensure lasting quality that lasts.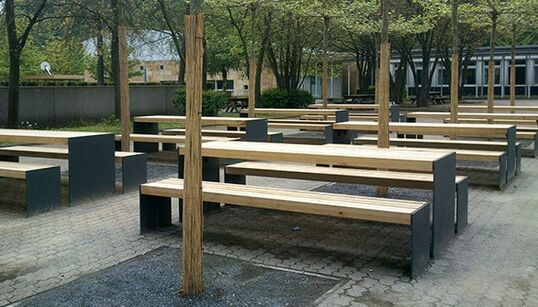 Designing a break, experiencing free space
Particularly in view of the fact that children and young people now spend a large part of the day at school, atmospherically designed space should be available to accommodate diverse meals. This applies to both indoor and outdoor space, because on warm days the break yard can serve as an extension of the canteen or cafeteria and allow pupils and teachers to enjoy their break time snack in the fresh air.
Functional all-rounder
Lübeck-HPL seating group
In order to realise a diverse schoolyard design, functional and versatile furniture is indispensable. The Thieme "Lübeck-HPL" seating group is a real all-rounder and is ideal for communal eating, but also as a group workstation or for leisure activities such as card games. The material, High Pressure Laminate (HPL), is extremely weatherproof, scratch-resistant and thus ensures a long service life. Anchored in the ground, the systems offer a high degree of stability and sturdiness. With their reduced design, the seating groups fit perfectly into any environment.
Define rooms
Special seating elements
A versatile open space design that clearly defines different schoolyard areas and their functions stimulates the pupils' senses and enables improved break supervision for teaching staff.
The special seating elements from Thieme can be used universally. And so the circular outdoor furniture can not only be used for sitting, but also as a demarcation of different areas. Available in any colour, the elements can be actively incorporated into the design of the playground.
Form and function combined
Bicycle stands
The majority of young people and children come to school by bicycle, so that a designated bicycle parking area on the school grounds is indispensable. In addition to sufficient space, theft-proof parking facilities should be provided. Thieme bicycle stands are convincing in terms of form and function and thus not only enable theft-proof parking of bicycles, but can also be included as a design element in the schoolyard design.
Trend-setting design
Bicycle spiral
The bicycle spiral from Thieme not only impresses with its maximum functionality and thus ensures theft-proof parking of bicycles, but can also be actively included as a design element in the schoolyard design. With its proverbial trend-setting design, the bicycle spiral ensures that all bicycles are lined up. The storage capacity can easily be doubled by using the element on both sides. Ground stainless steel or hot-dip galvanised steel, also available with a colour coating on request, remains in optimum condition even after years of use. The floor is fixed with anchor bolts to ensure maximum stability and theft-proof parking of the bicycles.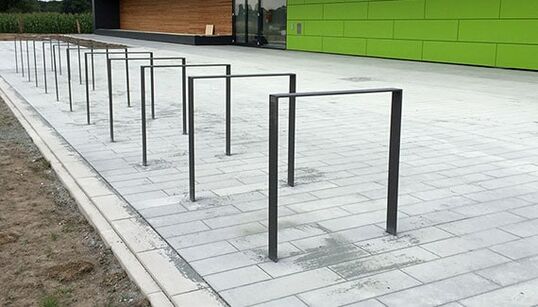 Litter bins
Waste is produced in everyday school life, and it is not possible to do without it. Breaktime wrapping paper, chocolate wrappers, drinking bottles - all this has to be disposed of properly. To prevent litter and cigarette butts from being simply dropped, waste disposal should be made as easy as possible for the pupils. Sufficient litter bins, placed in sensible locations and designed in a way that encourages littering, can ensure a clean schoolyard.
The two-in-one solution
Litter bin type 935
The Thieme waste bins "Series 935" impress with their simple design and large waste volume. At the same time, the high functionality ensures uncomplicated emptying. The integrated cigarette ashtray also encourages smokers not to simply flick the burnt cigarette into the air, but to dispose of it. The flap below the ashtray makes it easy to empty the ashtray into the waste bin. Hot-dip galvanised steel, weather-resistant and low-maintenance, ensures that the litter bin remains attractive even after years of use.