DK 33 extremely sturdy design Ø 178 cm
Manual turnstile in RAL color or natural galvanized (with or without climbing over protection)
Turnstile with stainless steel locking arms, extra-stable design.
The passage height 2200 mm offers optimal safety for the tall people.
The overall height of 2430 mm ( system fence height) offers the visually perfect integration into fence systems such as double rod mats etc.
industrial freewheel (backstop) with strong 1300 Nm max. torque
damped backstop destroys the stop energy
backstop system 3-fold adjustable, left-locking, right-locking and free-turning
maintenance-free bearings
currentless operation
locking lock for profile cylinder and/or fire department triangle as accessory
delivery: disassembled on wooden system pallet in few, pre-assembled large components
easy handling: no crane or similar required
quick assembly: 2 persons 2.5 hours each (without foundation work)
precise alignment with simple fastening: doweling on strip foundation
optimal surface design (paving, chippings, etc.) due to generous ground clearance (OK foundation 160 mm below OKFF)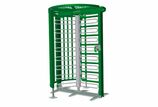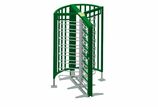 Order-no.
| RAL colour tone, without anti-climb protection | RAL colour tone, with anti-climb protection | Natural galvanised, without climbing protection | Natural galvanised, with climbing protection |
| --- | --- | --- | --- |
| 4-3324-0005 | 4-3324-0006 | 4-3324-0002 | 4-3324-0001 |