Counterweight for weight compensation
Counterweight and locking beam factory balanced
Vertical swiveling, lockable at 90°.
All steel components hot-dip galvanized or stainless steel
Main support made of steel tube 100 x 40 x 3 mm, height adjustable 30 mm downwards,100 mm upwards
Aluminum oval barrier beam 102 x 82 mm, with anti-seat protection and sign / advertising baffle
Supporting support made of steel tube 70 x 40 x 3 mm, height adjustable 100 mm downwards, 100 mm upwards
fastening by screwing on the mounting plate adapter 400 x 270 mm or using the concreting adapter
standard lock is a double profile cylinder lock, equipped with a profile cylinder and a blind plug
triangular lock SP8 or DIN 3223 or another profile cylinder can be retrofitted
The lock can be converted left / right, e.g. for counter-rotating barrier systems
In closed position plus lockable by padlock (accessory) on the support bracket
Up to 8 m barrier width a height-adjustable and spring-loaded pendulum support possible
Height above ground 1000 mm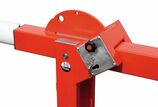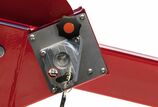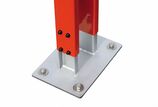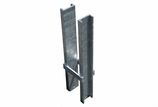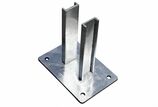 Dimensions & Order No.
| Length | Article no. (Fixed support) | Article no. (Fixed support) |
| --- | --- | --- |
| 3,0 m | 3-150-3000-0003 | 3-150-3000-0011 |
| 3,5 m | 3-150-3500-0004 | 3-150-3500-0005 |
| 4,0 m | 3-150-4000-0006 | 3-150-4000-0023 |
| 4,5 m | 3-150-4500-0003 | 3-150-4500-0011 |
| 5,0 m | 3-150-5000-0002 | 3-150-5000-0006 |
| 5,5 m | 3-150-5500-0002 | 3-150-5500-0013 |
| 6,0 m | 3-150-6000-0005 | 3-150-6000-0019 |
| 6,5 m | 3-150-6500-0088 | 3-150-6500-0064 |
| 7,0 m | 3-150-7000-0075 | 3-150-7000-0074 |
| 7,5 m | 3-150-7500-0071 | 3-150-7500-0077 |
| 8,0 m | 3-150-8000-0109 | 3-150-8000-0113 |
Accesors
Fire brigade triangular add-on set for barrier with counterweight WES 150
Fire brigade triangular additional set for barrier with gas spring WES 300D
Lock case support Profile cylinder lock for vertical swing barriers
Lock case support fire brigade triangle for vertical swing barriers
Lock case profile cylinder for: Turnstiles and height limitation
Lock case profile cylinder and fire brigade triangle for: Turnstiles and height limitation and WES 31 and WES 41
Simplex triangular lock for WES 31 Standard and WES 41 Standard
Pendulum support spring-loaded and height-adjustable
Locking force extension set for barrier with counterweight WES 150
Locking force extension set for barrier with gas pressure spring WES 300D
Extension set for positive locking for turnstile and height limitation (only in combination with lock case)
Padlock 60 mm
DK 40 lock case with profile cylinder lock
DK 40 lock case with fire brigade triangle and profile cylinder lock
DK 40 Lock case for padlock
Support for HBS50 for setting in concrete
Support for HBS50 for dowelling on top
Accessories: Barrier suspension
Extension set triangular locking Simplex for turnstile and height limitation